ZSceneManager is a plugin for ZBrush!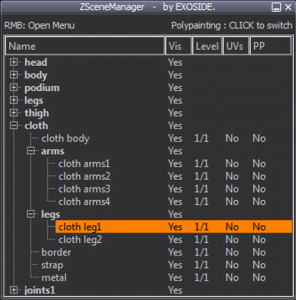 ZSceneManager's main features are :
You can hierarchically arrange your SubTools into folders in a separate window.
Based on multi-SubTools selection, you will be able to easily execute actions on multiple SubTools in a single click. (renaming, deleting, change visibility…)
Sculpt, Paint and Pose multiple SubTools simultaneously by using the 'Merge for Sculpt/Paint' and 'TPoseMesh' commands…
Visibility configs allows to quickly switch between different configurations of your Tools.
More generally, ZSceneManager greatly improves and speeds up your workflow when you work on a lot of SubTools.
… more features coming soon…..

It's available on Windows and MacOSX.
ZSceneManager is compatible with ZBrush 4R4, 4R5, 4R6, 4R7 and 4R7 64 Bits.

A video overview of ZSceneManager's features is available here : Overview video !


There are 2 versions of ZSceneManager :
A FREE but feature-limited version
You can download it here.
The FREE version has a limited number of features. It has NO time limitation, you can use it as long as you want.
Take a look at the differences between PRO and FREE here
A PRO (or FULL) version which costs $29.
You can buy it here.